Condensate Pumps for Mini-Split Systems
Quiet operation
Quick & easy installation and maintenance
Versatile positioning
Clean finished appearance
Fits most mini-splits, including up to 157,000 BTU/hr
---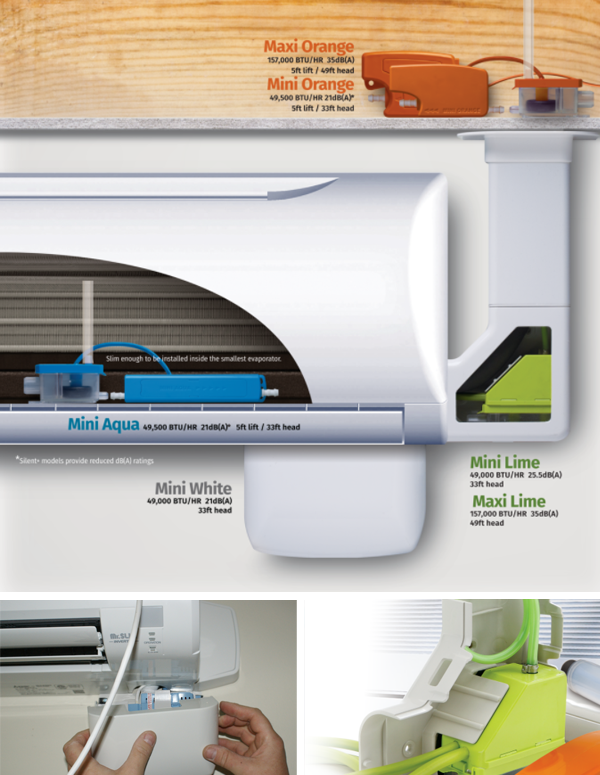 Why Aspen Mini-Pumps?
All Aspen Pumps include the
anti-siphon device,
allowing the discharge tubing to terminate without causing any potential siphoning effect.
Univolt technology
a
ccepts voltage inputs from 100–250V; reducing failure from spikes and drops in voltage from an unstable power grid.
The rapidly moving piston ensures
quiet operation.
Fully potted electronics*
provide resistance to shock, vibration, moisture, chemical, and promotes sound dampening.

Ease of installation. Aspen pump models can accommodate any installation.
Filter cleaning & maintenance. Choose a surface type pump (Lime or White) for easy filter access or a pump which requires no filter (Peristaltic).
6 mini-split pump styles, to allow for a wide range of applications, as well as models specifically optimized for high pumping needs.
Versatile pump positioning, including left or right install, remote or internal, vertical or horizontal. Refer to the product data for options.
*Applicable to specific models, refer to the product data for more info.
Installation Demo: Mini Orange
Installation Demo: Mini Lime
---
The Complete Solution
Aspen Pumps Mini White Silent+ condensate pump
Engineered with new ultra-quiet technology and flexible installation
White Series
Mounts directly below evaporator, quick installation
Aqua Series
Ultra-slim, fits inside evaporator or lineset cover
Orange Series
Installation flexibility, proven reliability
Lime Series
Elbow design, completely reversible, duct included, can also be used without ducting
Mini Tank
Versatile and powerful multi-functional condensate pump