Grilles, Registers, Diffusers (GRD)
Patented one piece grille, damper box
Virtually airtight
Lightening fast installation
Adaptable quick rough-in polymer register box
---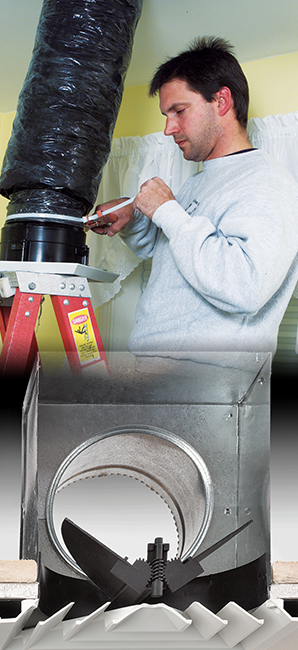 Why Airtec GRD?

Molded with professional grade polymers for long-lasting durability, resisting breakage, scratching, yellowing and fading.
Virtually airtight butterfly damper rubber gasket delivers superior seal when closed, with 100% of the air flow passing through it.

Retrofit flexibility. Stepped collar tears off easily to enlarge duct size, allowing on-site adjustment, and labor savings.
Patented one-piece design with no assembly required, eliminating the need for tedious mastic and external sealers, cutting attic time.
The quickest diffuser install in the trade with one man only.
Damper handle allows smooth, easy turning adjustment from below for fully open to tightly closed position.

Each Tuffbox utilizes an innovative stepped design to accommodate three duct sizes.
Flange is flexible to conform to drywall backing, eliminating leakage between grille and box.
For discerning customers, Airtec Retro style offers the look and feel of a reproduction cast iron grille without the high cost and weight.