Coil Cleaners and Disinfectant
Expanded line of specifically formulated A/C & refrigerant system chemicals.
Designed to remove grease, contaminants, and thoroughly clean A/C coils and components.
---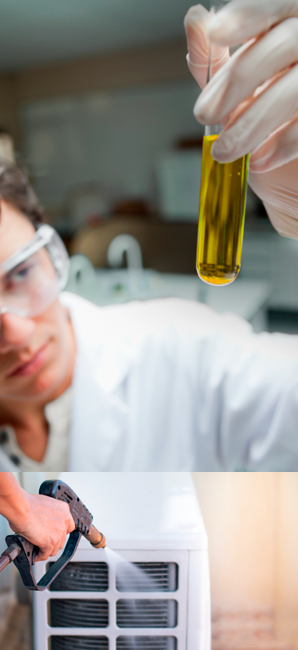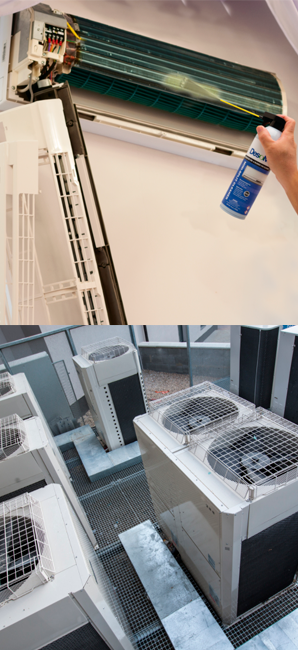 Why RectorSeal Coil Cleaning Products?

A long history of coil cleaner innovation through the Stewart-Hall company, supported with current on-site chemists and chemistry lab through RectorSeal. First to launch many of the core applications used in coil cleaning today.

Complete line of products for all HVAC coil cleaning maintenance and applications. Each formula powers-off years of dirt and buildup to restore performance.
Cleaners range in strength from max strength acidic and alkaline based to milder formulas for indoor use. Cleaner properties range from max foaming to self-rinsing, liquid and aerosol.
Full range of products with EPA and NSF approvals.

Drives energy savings for homeowners by improving energy efficiency. Consistent cleaning can dramatically reduce run time and energy costs.
The Complete Solution
Coil-Cure Liquid
Powerful non-abrasive disinfectant cleaner for HVAC systems
Con-Coil
Max strength, High foam, Brightening, Acid base, Condenser cleaner
Renewz Blue and Brown
Max strength, High foam, Alkaline base, Condenser cleaner
Foam-Core
High strength, Max foam, Alkaline base, Condenser cleaner
D-Factor
High strength, Max degreasing action, Condenser and evaporator cleaner
Coil-Rite
Mild strength, Low foam, Biodegradable, Evaporator cleaner
Coil-Cure
Mild strength, Foaming, EPA Registered, Evaporator disinfectant
Desolv (Liquid)
High strength, No foam, Mini-split evaporator cleaner
Desolv (Aerosol)
High strength, No foam, Mini-split evaporator cleaner
K.O. Dirt Blaster
Max degreasing action, High pressure, High dielectric strength, Self-rinsing, General Purpose