Lineset Covers
Protect lineset, wiring and drain hose to avoid damages to HVAC systems
Gloss finish, premium post-paint
UV, weather, and fire resistant
Snap-together design
Heavy duty grade
3 sizes, 3 color options, 15 fittings
Rigid construction for challenging installations and extreme conditions
---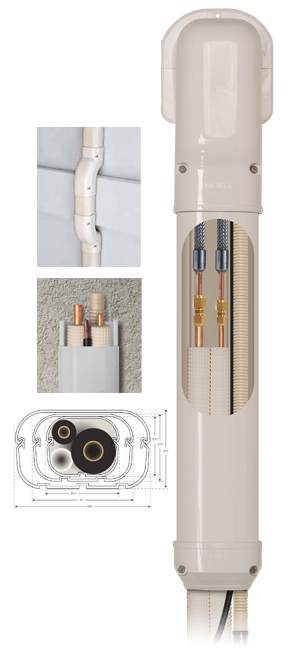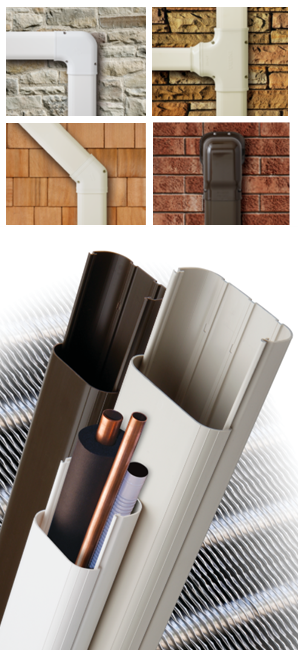 Why Slimduct?

Weather and fire resistant; UV stabilized. Remain attractive and provide protection for years. Tested to over 2,000 hours. Temp range: (-4°F to 140°F)
Protects from pets, pests, and vandals. Flat bottom channel and elbow hugs wall, eliminates insect, bird nests.
Three year warranty. Long lasting professional grade polymers.

Snap-together design allows for quick installation, saving time and money.
Deeper profile. Provides more room to work and accommodates thicker insulation per latest codes.
Wider design. Allows for multiple linesets under one cover.
Complete system. Covers and fittings for the majority of applications; available in a wide assortment of sizes, grades, and colors.
Wall duct kits. Everything to hide and protect lineset for a typical A/C installation in one box.
Compatible accessories. Works with RectorSeal 3-In-1 Lineset Cover Cutter, UV-Resistant Non-Adhesive Wrap, and Paircoil Lineset Insulation.
SIF 2" Fixed Offset
SFJ Flex Adaptor
SD 45–90º Adjustable Flat Ell
SD 2.75" Twist Ell
SL Strap Kit for Linesets
13' Wall Duct Kit
3-In-1 Lineset Cutter
UV Resistant Non-Adhesive Wrap
The International Energy Conservation Code (IECC) mandates a UV-resistant, non-adhesive wrap for linesets, because deteriorating lineset insulation is an air conditioning efficiency issue.
IECC: Any insulated piping in areas exposed to weather, such as refrigerant piping associated with a split system air conditioner, is required to be further protected from exposure to sunlight, moisture, and wind—all of which can damage the insulation materials over time. This protection must shield the insulation from solar radiation. The 2012 IECC prohibits the use of adhesive tapes as shielding.