Solvent Cements
One source, complete line
Fast, easy and reliable joining method
Superior bonding strength with excellent gap filling*
LEED compliant
NSF approved for potable water*
*Applicable to specific products, refer to the selector for more info.
---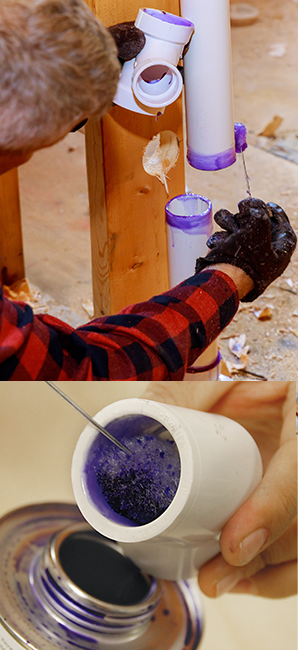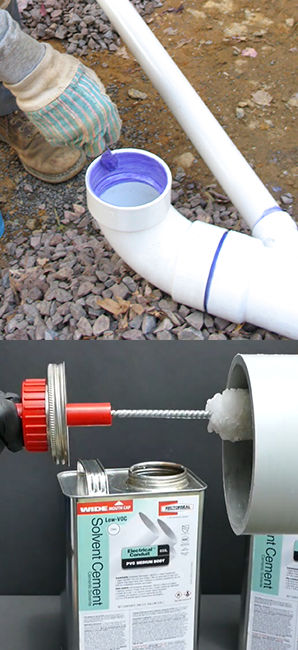 Why RectorSeal Solvent Cements?

On-site chemical batch quality validation. RectorSeal solvent cements, primers and cleaners are tested for quality via an on-site chemical engineering lab.
Made in U.S.A. RectorSeal's complete family of PVC, CPVC & ABS solvents are cousins to our unmatched lineup of pipe thread sealants, born out of the tough Texas oil fields. They are the proven choice for the plumbing tradesman.
RectorSeal primers properly etch the pipe surfaces to ensure a strong and consistent weld every time.

The widest variety of sizes and formulas for welding PVC, CPVC, and ABS pipe installation. Available in three body thicknesses - Regular, Medium & Heavy - to accommodate each application needs.
Color range to easily identify the right solvent cement for the application.

Trusted since 1937, RectorSeal has a history of pipe joining chemical market leadership and innovation. RectorSeal solvent cements and primers have been delivering strong, consistent pipe installation for over 50 years.
The Complete Solution
Pete 602L
Clear - medium body PVC solvent cement
Gene 404L
Clear - regular body PVC solvent cement
Gold 844L
Clear - heavy body PVC solvent cement
Homer 828L
Gray - heavy body PVC solvent cement
Arctic 616L
Clear - medium body PVC solvent cement
John 647L
Black - medium body ABS solvent cement

Charlie 412L
Orange - regular body CPVC solvent cement

Heavy Duty 811L
Orange - heavy duty CPVC solvent cement

Mike 425L
Amber - regular body multi-purpose solvent cement

Dura-Gold 627L
Gold - medium body CPVC solvent cement

Hot 203L
Blue - medium body PVC solvent cement

PVC Electrical Conduit 633L
Blue - medium body PVC solvent cement

Jim PR-1L
Purple - hi-etch primer

Clear PR-2L
Clear- low-VOC hi-etch primer

Bill PR-3
Clear- economy hi-etch primer

Sam CL-3L
Clear- cleaner