Water Heater Calcium Removal Solutions
Restore, maintain, and protect water heater efficiency and operation.
Calci-flush tank water heater flush dissolves and removes sediments to restore temperature.
Calci-free tankless water heater flush removes coil deposits and restores circulation in 20 minutes.
---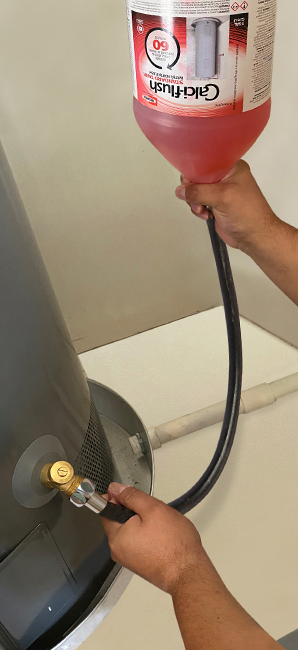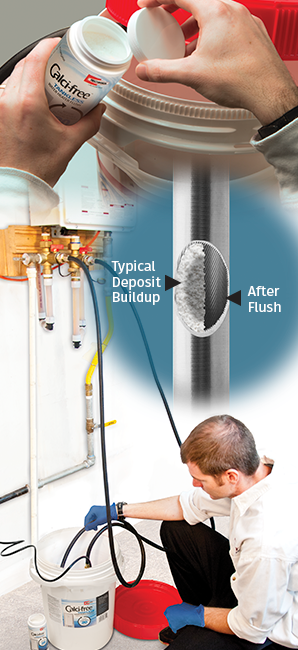 Why Calci-flush & Calci-free?

Restore efficiency and performance quickly. Calci-free restores in under 20 minutes, while Calci-flush restores in under 60 minutes.
Calci-free cleans heat exchangers quickly and thoroughly.

Simple, straightforward process to restore efficiency and performance.

More effective than vinegar and no unpleasant odors.
Calci-flush comes with hose adapter, connecting ¾" washing machine hose to the bottle and water heater (hose not included).
Calci-free requires no need to haul liquids – mix on site! The mix stays transparent, making it easier to see what has been flushed from the system. Comes in granules form, eliminating splashes & spills.

Complete solution to remove scale and mineral deposits safely and effectively from tankless and standard tank water heaters.

The Calci-free Kit is a complete flush kit including the reusable HD flush bucket, the HD utility pump, the discharge & feeder hoses, and the Calci-free cleaner.
The Complete Solution
Calci-flush
Standard tank water heater flush
Calci-free Flush Kit
Complete Tankless Water Heater Flush Kit
Calci-free
Tankless Water Heater 1.2 lbs cleaner